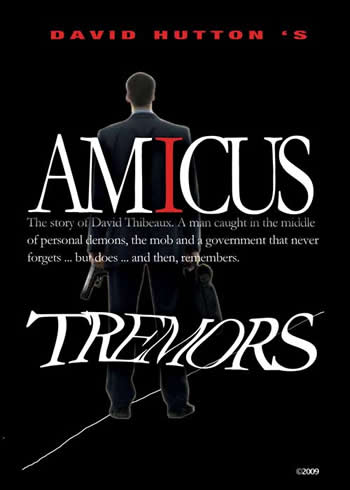 The Book
The story of David Thibeaux. A man caught in the middle of personal demons, the mob and a government that never forgets...but does ....and then remembers.
Read more about the book…
The Author
David's first novel draws from his extensive personal experience as an international attorney. His career has enabled him to travel throughout the world.
Read more about …
US to maintain ties with Thailand despite the coup.
Writter by David Hutton, Freelance Journalist
United States Senator Bob Corker, a Republican representing the state of Tennessee, is the ranking member of the US Senate Foreign Relations Committee. Here he discusses with the Bangkok Post the US policy response towards Thailand following the May coup.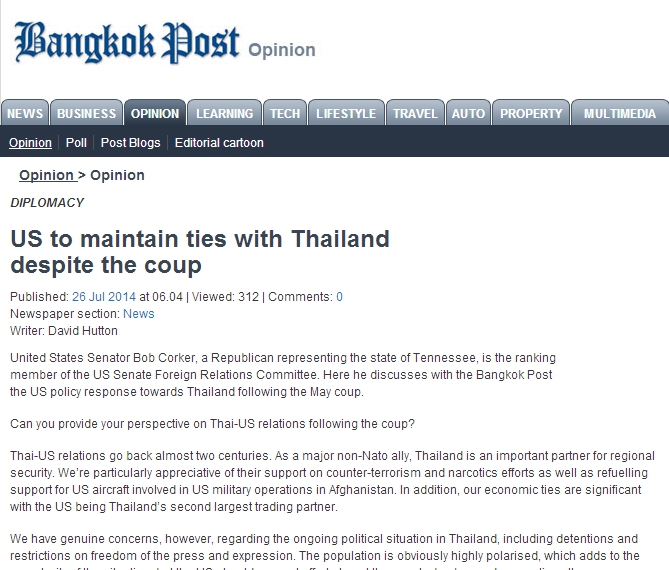 Can you provide your perspective on Thai-US relations following the coup?
Thai-US relations go back almost two centuries. As a major non-Nato ally, Thailand is an important partner for regional security. We're particularly appreciative of their support on counter-terrorism and narcotics efforts as well as refuelling support for US aircraft involved in US military operations in Afghanistan. In addition, our economic ties are significant with the US being Thailand's second largest trading partner.
We have genuine concerns, however, regarding the ongoing political situation in Thailand, including detentions and restrictions on freedom of the press and expression. The population is obviously highly polarized, which adds to the complexity of the situation, but the US should support efforts to get the country back on a democratic path as soon as possible.
Do you agree with the Obama administration's condemnation of the coup, including reconsideration of US military co-operation and other assistance due to restrictions in US law?
While our nation [America] has a long history of cooperation with the Thai military that I would hope can continue following the restoration of a freely elected government reflecting the will of the Thai people, I think the Obama administration took the appropriate step in announcing a reassessment of aid consistent with current US law, which restricts assistance to countries where a coup has occurred. To be clear, these restrictions only apply to the government, so other aid to non-governmental organization's is unaffected.
I personally believe we should consider looking at our response to political transitions on a more case-by-case basis, but we have to abide by existing law. And due to civil liberties issues involved in Thailand right now, we should respond accordingly.
What is your view more broadly on US policy in the Asia-Pacific region?
When I visited the region last spring, the big questions were about whether the US could be counted on to maintain our obligations and if the message of making the Asia-Pacific region a greater focus of US policy would be met with action. We've watched with concern the increased tensions sparked by maritime and territorial disputes where a miscalculation could escalate into a dangerous situation.
It's essential that the US reassure our allies and partners of security commitments. We must stand firmly in support of free navigation, unimpeded lawful commerce and the rule of law. And, while encouraging restraint, we have to send a clear message that no nation can undertake aggressive actions to unilaterally alter territorial boundaries.